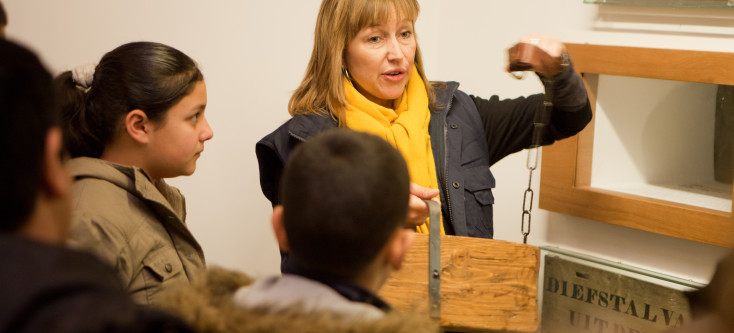 A Day trip to The Hague
Are you planning a day trip with your class to The Hague, the city of Peace and Justice? Then why not book a combined excursion to the Prison Gate Museum and Humanity House. Two institutions within walking distance of each other.
What will your students do?
Take your class on a visit to two remarkable museums in The Hague, both devoted to stories and personal experience. At the Humanity House, students step into the shoes of a refugee and experience what it feels like to have to flee from a disaster or conflict. At the Prison Gate Museum they follow in the long-vanished footsteps of prisoners. Students become familiar with themes such as democracy, peace & safety and (international) law in an engaging way.
Combine!
You can also enrich this combined excursion with one of our learning programmes. For instance, play the Humanity Game and see how your students tackle tough dilemmas as relief workers. Or if you are unable to travel to The Hague, use our Focus on Refugees programme.
DETAILS
| | |
| --- | --- |
| Target group: | Secondary school students, all years and levels |
| Price: | €10,75 per student |
| Payment: | By invoice or Cultuurkaart |
| Duration: | 150 minutes |
| Number of students: | Max. 25 students |
| Number of supervisors: | 2 from school |
*Prices include VAT.
Reserve
Learning aims
Link to the subjects:
Citizenship, Civics, History and Geography
Link to core objectives:
Man & Society (36, 38, 43, 47)
Art & Culture (48, 52)
Dutch (1, 5, 6, 8, 9, 10)
Skills:
Social and cultural skills, critical thinking, working together, creative thinking and communicating
Aim of lesson
Students learn the difference between a refugee, a displaced person and an asylum seeker.
Students acquire insight into the lives of refugees and gain empathy for their situation.
Students learn to discuss other people's convictions with respect.
Students can explain the meaning of democracy, peace & safety and (international) law.