7 March 2019
Relisten. An unknown resistance story from Auschwitz.
Relisten to the Polish professor Marek Kornat who tells the story of Witold Pilecki. A Polish secret agent who volunteered for a resistance operation that involved being imprisoned in Auschwitz.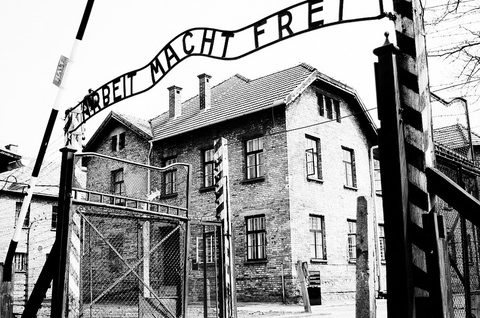 Although the horror stories of extermination camp Auschwitz are widely known, many resistance stories are more unknown. This includes the story of Polish intelligence agent Witold Pilecki: he volunteered for a Polish resistance operation that involved being imprisoned in Auschwitz in order to gather intelligence. During this lecture, the Polish historian Marek Kornat will present this little known story.
Risking his own life, Pilecki organized a resistance movement and escaped the camp in 1943, in order to inform the Western world about what happened behind the closed gates of the camp. The result of this operation was the Witold's Report: the first comprehensive Allied intelligence report on Auschwitz, and the atrocities of Nazi Germany.
The distinguished Polish Professor Marek Kornat (Historic Institute of the Polish Academy of Science) gave a lecture on the story of Pilecki. After his lecture, Dr. Iwona Gusc will have a dialogue with him and the audience. We will be focussing on how we can talk and write about heroism in a place as horrible as Auschwitz. And what meaning we give to bravery and resistance, when so many people became victims and had no control over their lives.
About the speakers
Professor Kornat is a historian, specialized in modern history and foreign policy of Poland. Being the author of various publications, books, and articles, he is known as a well-known historian in diplomacy, international relations, and foreign policy of Poland.
Dr. Iwona Gusc is an indepentent researcher and adjunct at the department of International Relations of the Webster Universty in Leiden. Previously, she worked at the NIOD Instituut voor oorlogs- holocaust- en genocidestudies.
This program is organized by the Embassy of the Republic of Poland in cooperation with the Pilecki Institute.