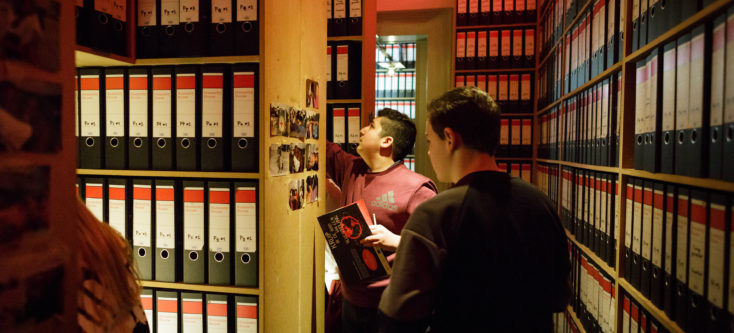 TURN YOUR PUPILS INTO WORLD CITIZENS!
At Humanity House, primary school pupils come to understand that peace and safety are not automatic for everybody. Disasters and conflicts affect the lives of many millions of people. At present, an estimate of 70,8 million people around the world have fled their homes. That means that 31 people are newly displaced every minute of the day.
At Humanity House, every pupil acquires the basic knowledge, skills and attitude to play an active role in their own environment and in society. Pupils are introduced to humanitarian themes such as refugees and relief aid. We promote understanding and discussion of these complex themes in various learning programmes. Humanity House offers primary school pupils guiding principles to become citizens of the world
PLAN YOUR VISIT
Complete your Journey of a Refugee with a personal encounter with Sahar or Ayham, who are able to share their personal refugee story in a presentation. Want more information? Just ask us!
DETAILS
| | |
| --- | --- |
| Target audience: | Age 10-12 |
| Number of pupils: | Max. 30 per group |
| Number of supervisors: | 2 from the school |
| Days: | Monday - Friday |
Consult us to create a programme for a larger group.
WORLD CITIZENSHIP
Many cultures, religions, political persuasions and ideologies coexist within society. For young people at the centre society, it is important to know what's happening and to form an opinion. Humanity House brings current events closer to home, and encourages pupils to view the world with an open mind.