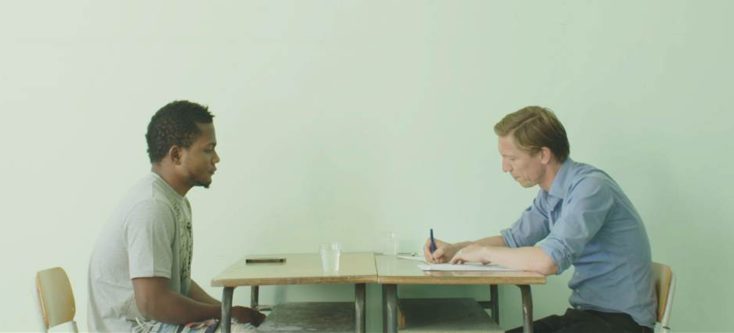 Experience, meet & watch
In this combined excursion organized by Humanity House, the Dutch Council for Refugees, Movies that Matter and Filmhuis Den Haag, students explore the themes of human rights, migration and asylum policy. During the journey of experience, the refugee encounter and the film, students are invited to reflect in various ways on the asylum offered to refugees.
Refugees dominate the news. The number of people fleeing from war, violence and repression shows no sign of abating. Many people risk their lives trying to reach Europe, but more and more European countries are closing their borders. What is it really like to have to flee your home? And how much responsibility does Europe bear for these people?
The balance of power between Europe and refugees
Filmhuis Den Haag & Movies that Matter
At the interface of documentary and fiction, Stranger in Paradise investigates the absurd dilemmas of Europe's immigration situation. A teacher in a classroom in Sicily tells newly arrived migrants three different stories about their future in Europe. With the various attitudes towards refugees across Europe, the process is a confrontation not only for migrants but also for viewers.
After watching this film at Filmhuis Den Haag, students take part in an interactive journey through Humanity House in which they find out what it's like to have to flee their home. At Humanity House, they also have the opportunity to look at 8 different personal stories of people who have fled themselves.
In this combined excursion, students are encouraged in various ways to reflect on their opinions on the migration issue and they can consider those opinions in light of the experiences of somebody who really did have to flee home.
Optional: Encounter with a speaker who will tell their personal story.
For more information or bookings, call 070 – 345 99 00 or email educatie@filmhuisdenhaag.nl.
DETAILS
| | |
| --- | --- |
| Target group: | Higher professional / University students |
| Price: | € 11,50 per student |
| Duration: | Half a day |
| Number of students: | 15-30 per group |
*Price include VAT.
**Price 2018 online in January

We can prepare a special programme for larger groups.
Interesting for
International Relations
Law
Philosophy
Political Science
Sociology
Film Studies