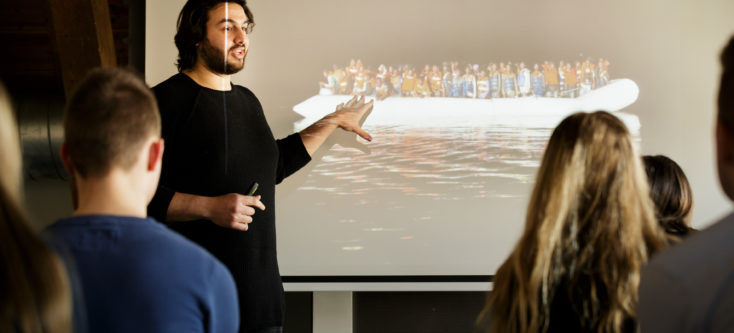 AYHAM: "IF ONE DOOR SHUTS, ANOTHER ONE OPENS"
"Were you afraid during your escape?" "What reminds you most about home here in the Netherlands?" "What's your dream for the future?" Your pupils can put these and other questions to Sahar, Ayham, Mohamed, Qorban, Yaman and others, who share their personal stories.
We offer two options: a 30-minute programme to complement the Journey of a Refugee, or a separate 60-minute programme. Both programmes focus on the personal story of a refugee.
THE ENCOUNTER – 30 MINUTES
During the encounter, Sahar, Ayham, Mohamed, Oorban, Yaman or another speaker will tell their personal story. This is divided into three periods: life in their native country, their journey, and life in the Netherlands. Pupils have ample opportunity to ask questions. This learning programme can be booked in combination with the Journey of a Refugee. This combination enhances a student's understanding and appreciation of complex themes.
THE ENCOUNTER – 60 MINUTES
The focus of this programme is the story of Sahar, Ayham, Mohamed, Qorban, Yaman or another speaker, but – just as we do with the Journey of a Refugee – we prepare for this conversation with a substantive introduction. How many refugees are there in the world? Which countries offer them shelter? Where do they flee to? Your pupils thus learn about the context in which to place the speaker's story.
GREATER UNDERSTANDING
Your pupils discover that 'a refugee' is a human being just like them, with dreams, feelings and fears. Somebody who goes to school or work, likes to spend time with family and friends, and just have fun. In short: a refugee leads a life that is not all that different to theirs.
DETAILS
| | |
| --- | --- |
| Available on: | Contact educatie@humanityhouse.org for more information about the availability of the program. |
| Target group: | Secondary school |
| Duration: | 30 mins (in combination with Journey only) 60 mins (separate programme) |
| Price 30 mins: | € 100* per group |
| Price 60 mins: | € 200* per group |
| Payment: | Per invoice or culture card (CJP teachers pass) |
| Number of pupils: | Max. 30 per group |
| Number of supervisors: | 2 from school |
*Prices include VAT.
Consult us for a programme with a larger group.
Reserve
LEARNING GOALS
Subjects:
Citizenship, Civics, History and Geography

Skills:
Social and cultural skills, critical thinking, collaboration, creative thinking and communication

AIM OF THE LESSON
After the combined Journey and Encounter programmes, pupils know what a refugee goes through before, during and after they flee home.
Students become aware of how conflicts and violations of human rights affect individual people.
Students know how they can engage in dialogue with people who have fled.