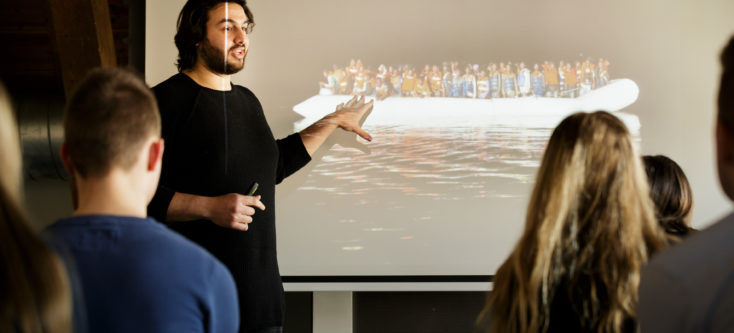 AYHAM: "IF ONE DOOR SHUTS, ANOTHER ONE OPENS"
"What reminds you about home most of all in the Netherlands?" "What is your dream for the future?" After the Journey, students can put these and other questions to Sahar, Ayham, Mohamed, Qorban, Yaman or to another refugee. They share their experiences and look forward to talking with you.
Students step into the shoes of a refugee and undertake a journey. They experience the uncertainty and upheaval of someone who has fled a conflict or whose human rights were violated.
Students who combine this journey with a personal talk find out what motivates somebody to flee their home and how their life is changed forever by this decision.
DETAILS
| | |
| --- | --- |
| Available on: | Contact reserveringen@humanityhouse.org for more information about the availability of the program |
| Duration and price | 30 min. | €100,- |
| | 60 min. | €200,- |
| Payment: | Per invoice |
| Number of students: | Max. 30 per group |
| | |
*Price includes VAT.
Consult us for a programme with a larger group.
Reserve
INTERESTING FOR WHOM?
Are you taking one of the following courses? International Law, Journalism, Law, Cultural Anthropology, Sociology, Conflict studies, Development studies, Politicology, International Relations, European Studies, Philosophy, Psychology, History or Language and Cultural Studies. If so, Humanity House is certainly worth a visit!