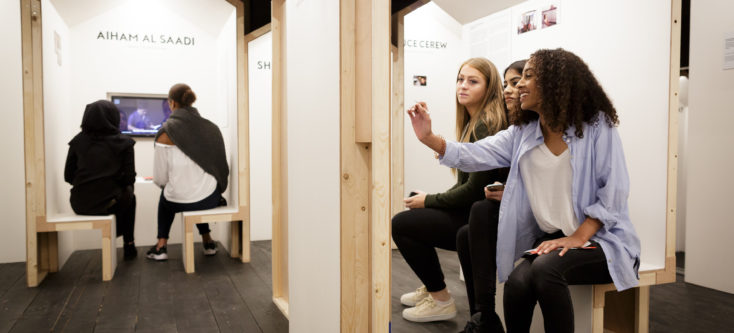 YVONNE: "I DON'T FEEL LIKE A REFUGEE IN THE NETHERLANDS. I FEEL LIKE A 'NEDERLANDER'"
Refugees dominate the news. But all too often the discussion is about them, not with them. At Humanity House, however, refugees have their say. Why does somebody leave everything behind? And what does a refugee encounter during and after their journey?
On our Journey of a Refugee, students step into the shoes of a refugee. After that, they meet eight people who tell their personal refugee story. One of them is Yvonne Artis Shaw from Jamaica, an activist who campaigns for the gay community and works for the first LHBT organization in Jamaica: J-FLAG. And Akhrat Selevani from Iraq, who explains what it was like to spend eight years living and waiting in various Dutch asylum seekers' centres.
COMBINE!
Combine the Journey with a programme from one of our partners: a presentation on of war by the Red Cross, or the lecture 'Humanitarian Concern' by ICCO and Kerk in Actie. You can also choose for a personal encounter and conversation with Sahar, Ayham, Mohamed, Qorban, Yaman or another refugee, who will talk for 30 minutes about their personal story. Students discover that 'a refugee' is a person just like us, with dreams, feelings and fears. Somebody who studies, likes to spend time with family and friends, and just have fun. In short: a refugee leads a life that is not all that different to theirs.
Details
| | |
| --- | --- |
| Duration: | 90 minutes |
| Price: | € 6,50* per student |
| Payment: | Per invoice |
| Number of students: | Max. 30 per group |
If you complete your visit to our museum with one of the presentation, we charge a price of € 12,50* per student. This applies for a minimum of 15 people.

*Price include VAT.
We can also create a special programme for larger groups.
Reserve
INTERESTING FOR STUDENTS OF
(International) Law
Journalism
Cultural Anthropology
Sociology
Conflict Studies
Development Studies
Politicology
International Relations
European Studies
Philosophy
Language and Culture
History
Psychology
HUMANITARIAN ORGANIZATIONS
Are you looking for more information about disasters and conflicts? Organizations such as the Red Cross, UNHCR, the Refugee Foundation Netherlands and other partners of Humanity House offer extensive information and research reports on their websites.